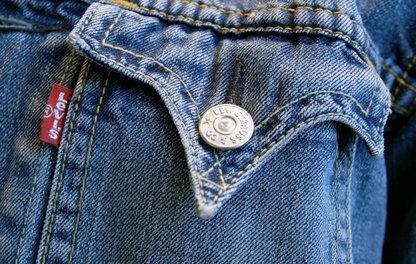 Credit: Getty Images
SAN FRANCISCO - MAY 7: A Levi's jacket is seen on display at the new Levi Strauss & Company Visitor center May 7, 2003 in San Francisco, California. On the 150th anniversary of the San Francisco based jean company, Levi Strauss opened a visitor center that chronicles the company's history with decades of period clothing and classic advertising. (Photo by Justin Sullivan/Getty Images)
by WHAS editors
WHAS11.com
Posted on September 5, 2014 at 2:54 PM
Louisville, Ky. (WHAS11) - Blue jeans are about as American as apple pie, but it appears more of Americans are skipping the denim and going for comfort, opting for yoga pants or leggings instead.
Jean sales in the U.S. were down six percent last year while activewear sales were up seven percent.
Despite the numbers, denim still accounts for 20 perecent of annual sales at U.S. department stores.
Levi Strauss, the company that invented the first pair of blue jeans 141 years ago, acknowleges its business has been hurt by what's being called the "ath-leisure" trend.
Levi Strauss is adjusting by making denim that's more stretchy, mimicking the comfort of sweatpants.